Build Your Own H2O SOS Leak Detection System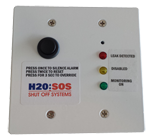 H2O SOS Controller
Start Building Your H2O SOS System Now!


Use this tool to design your own custom residential or commercial H2O SOS water leak detection system package.
All H2O SOS water leak detection systems must include a control panel and at least one sensor (wired or wireless). If automatic water shut-off is desired when a leak is detected (as is normally the case and highly recommended), the system must also include an electronically-activated shut-off valve.
Our build tool will walk you through the process of building your custom system. A cummulative price list will also be displayed and you can revise the quantities of components you have selected at any time. Just click "START NOW" on the right to begin.
If you have any difficulty using this tool or want some assistance designing your system, please call us toll free at 1-866-376-2690.