H2O SOS Standard Controller / Control Panel
Part# H2O SOS 1Z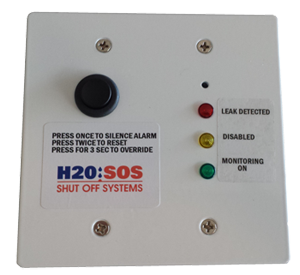 Note: This is a controller only. It requires a valve and sensors
to operate as a complete water leak detection system.
H2O SOS Single Zone Controller

The H2O SOS single zone control panel / controller is the brains of the H2O SOS leak detection system. Simply wire it to one of our lead-free valves and either wireless or wired sensors and you have a complete active leak detection system.
monitors up to 250 sensors
color-coded-LED lights provide system status at a glance
audible alarm
can be connected to security alarm systems for leak monitoring
The H2O SOS single zone controller can interface with an existing home alarm system. This allows it to not only shut off the water if a leak is detected, but also to alert you or your alarm company of the leak.
The H2O SOS controller is designed to be mounted over a standard 2-gang electrical outlet box and is powered by a 24 volt plug-in transformer (provided). an optional surface mount box is available - please call for details.
H2O SOS Standard Control Panel Specifications
Moniotring Zones:
Single (1)
Max. Number of Sensors:
250
Size:
4.5" X 4.5" X 2.5" deep
Color:
White Aluminum Face Plate
Power:
24VAC Power Supply (Included)
Inputs:
Normally Closed or Open Circuits
Mute / Monitor / Disable / Reset - Push Button
Outputs:
Green LED - Monitoring
Red LED - Leak Detected
Yellow LED - Disabled/Standby
Audible - Low Level Piezo upon Alarm