H2O SOS Standard Wireless Transmitter
Part# H2O SOS DXT 31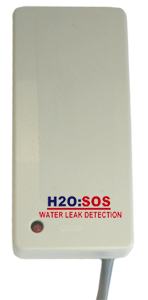 Note: This is a transmitter only. It requires a valve, control panel,
sensors, and a wireless receiver to operate as a complete water leak detection system.
H2O SOS Standard Wireless Transmitter
H2O SOS Wireless Transmitter is usually used to transmit leak signals from a series of standard leak sensors wirelessly back to the receiver and control panel. They can be connected to up to 20 hard-wired leak sensors (wired in parallel) and have a range of 700 - 1000 feet through free air. Range is reduced when the signal has to travel through walls or other obstructions. They operate on a 315Mhz frequency.
Each H2O SOS Standard Wireless Transmitter is powered by two 3-volt #2032 lithium batteries with an expected life of up to three years.
Standard Wireless Transmitter Specifications
Input Voltage:
Two 3VDC Litium Batteries (#2032)
Frequency:
315Mhz
Battery Life:
3 years
Range:
700 - 1000ft in free air
"Hard-wired" Sensors per Transmitter:
Up to 20 sensors wired in parallel in 100ft