Water Leak Detection Systems
We are pleased to offer automated water leak detection systems from H2O SOS and FloodStopper. Unlike most competitors' systems, our leak detection systems not only provide an audible alarm when a leak is detected, but they also automatically shut the water off to prevent damage. From the moment a leak is detected by one of the system's sensors, the valve closes and the water is shut-off.
A wide range of packages are available to suit almost every residential and commercial leak detection application; additionally, we provide the option to build your own custom system. Our standard shut-off valve inlet/outlet sizes range from 3/4" to 2". Both hard wired and wireless systems are available.
Available brands:
H2O SOS Water Leak Detection Systems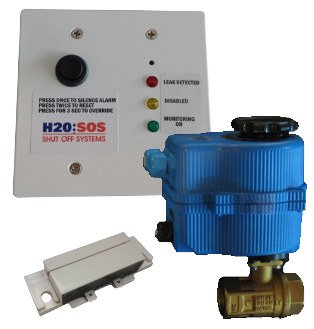 Starting at CDN$1085.00
Water leak detection systems with automatic water shut-off valves for residential and commercial applications. Valve sizes from 3/4 to 2 inches. Hard wired and wireless packages available.
- More Info -